Regular price
Sale price
$35.00 USD
Unit price
per
Sale
Sold out
Share
This piece was created in response to the poem created by Brittney Corrigan for the Word & Image project at Hoffman Center for the Arts, Manzanita, Oregon. It's a tender glimpse at the frailty and inner strength of us all. See more about this project on my blog.   
Unflap
for Tammie Jo Shults, and the rest of us
When all the wide world is unhinged—
not just the weather with its conniption
of extremes, but also the cracking open
of our species, the dark fringes scrabbling
their way to light—that's when we most
need the pilot, the levelheaded timbre
of her voice through the crisp altitude
of air. It's not just 149 souls on that plane
as it tilts and plummets. It's all of us
reaching up for the oxygen masks, all
of us trying to pull one another back in.
We need how she navigates us through
the turbulence of fear, how she calmly
corrects to our destination, how she asks
for everything we'll need. We are single
engine and gaping, but we're not blazing
yet. The pilot, she soothes, and we are
bracing. We trust her while we descend,
this voice not angelic or steel, no, she's
just human. But she's carrying all of us,
the blue smudged to a blur, despair
now clanking wildly at our ears.
We are peeled open and falling, but she
is what we need. A clear, sane winging
back to earth. No, not all of us. But most
of us. The gravity of our hearts plunging
for what we've lost. Gripping onto
each other, remembering what's worth
saving as the mess of us lands.
By Brittney Corrigan

Created with acrylic paint on a birch wood canvas. This is a limited edition of 40 archival prints.
11x14 White archival luster paper (ready to frame)
9.x11.5 Print size
Signed, edition number and Certificate of Authenticity
delivered to you with love and care.
©Julene Ewert
Artist Reserves All Rights
View full details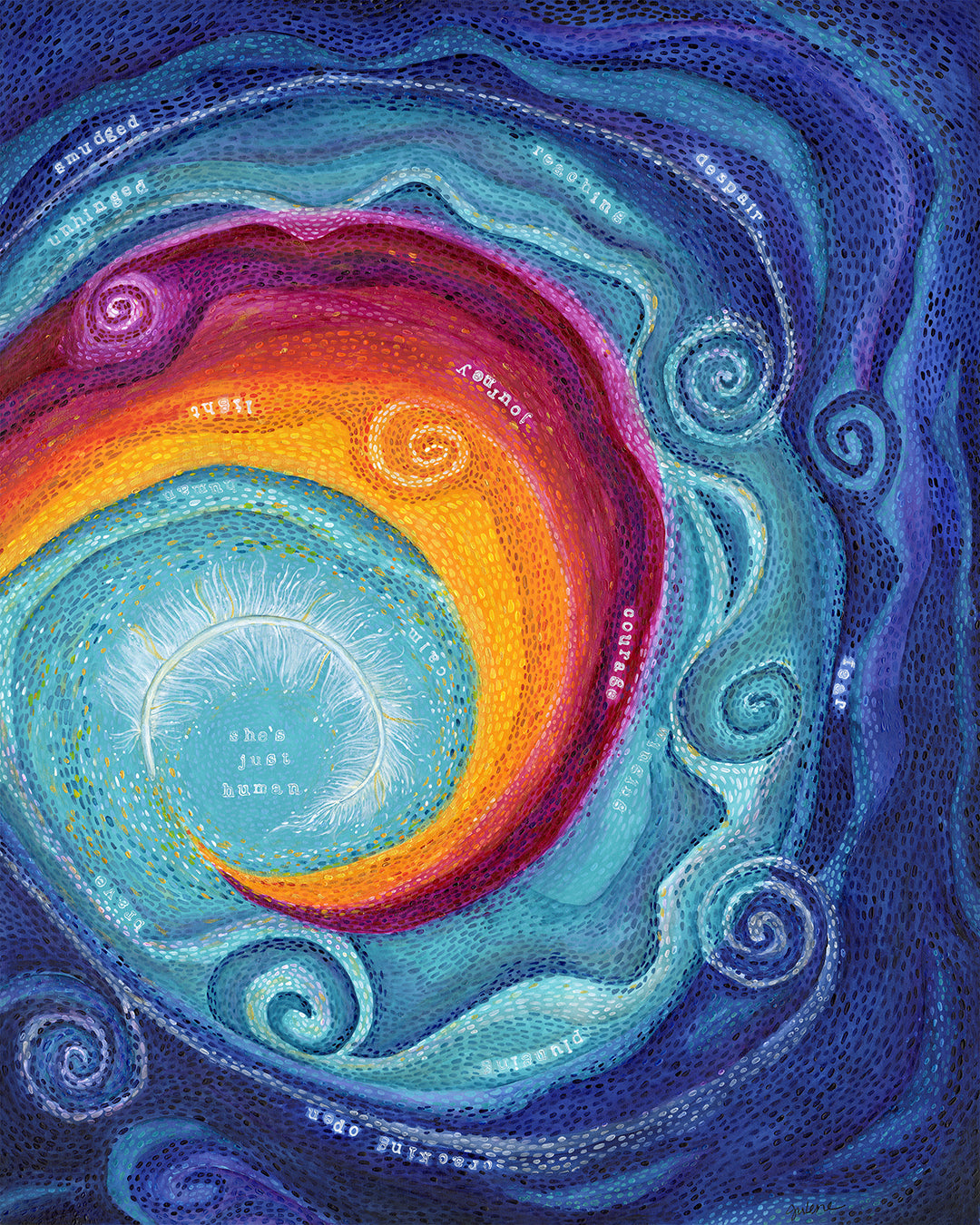 returns

I want you to be completely satisfied with your purchase. We believe in high quality products and extraordinary customer service.